I have always wanted a true, organic nickname, but I don't seem to inspire that in people. I also wish I was the kind of person who came up with fun, personal, endearing nicknames for their friends, but I think I'm not that kind of comfortable with people,
BUT
I am that kind of comfortable with my cat.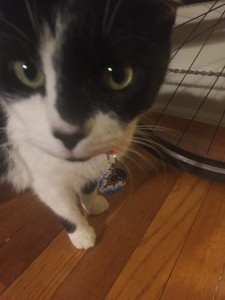 This is Mandelbrot. She's 3, and I've had her for 7 months. Over that time, here is the evolution of her nicknames.
Meow -> Mao
This one is probably obvious– it comes from her chattiness– and has also been a nickname that's evolved for other cats, namely, my parents' cat Baci. It amuses me to imagine her as a furry little dictator but, again, not exactly unique among her species.
Mandelbrot -> M
This also makes sense, but mostly only comes up when writing about her in text messages. "Mandelbrot" is annoying to type.
Mandelbrot -> Mandie
I thought this would happen, because she is a she, and Mandie is shorter and more girly than Mandelbrot. I called her this once, in a comment on the Facebook post I wrote when I first got her. This nickname died immediately– victim to the doomed nature of artificial, sensical nicknames.
Mandelbrot -> Mandible-beeble-brot -> Mandible-beeble-brat -> M'beebs.
For all the sense this makes, these are the ones that stuck.
Here's a photo of my cat fully embodying the character of M'beebs: