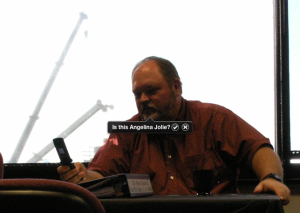 I'm taking a MOOC! A MOOC is a Massively Open Online Course; this one is on a platform called Coursera, and it's about machine learning. ML allows computers to learn in a meaningful way without being programmed. Google uses machine learning to improve its search results, Apple and Facebook use it for their photo recognition software, Tesla (and many others) use it in their self-driving cars, Google used it to beat the best humans at Go, a famously complex game, and IBM's Watson is helping people tackle cancer. Not that I intend to compete with any that, but suffice it to say, I'm interested.
There are lots of people in our "class"– last we checked, around 750 had introduced themselves on the forum! Of course, studies show that completion rates for these types of classes are low– a little below 7%. I am definitely concerned that I might be part of the 93% who drop out for whatever reason, so I'll promise in advance to be reflective and write a post about why I quit if I in fact do. I read through some of the posts my classmates have made introducing themselves, and they truly are from everywhere– France, India, China, Rwanda, Kentucky– and have all different levels of education. I'm not the only doctoral student, and there's at least one middle school student enrolled!
For this class, there's some recommended content knowledge, but no formal pre-requisites. It doesn't cost money to take the course, but if you'd like a certificate, you can pay about $50. B and I aren't taking it for a certificate, we're just curious!
It's not part of my degree program, so I don't need to take it for any kind of credit– I think the understanding of the technology and the social experience of taking an online computer science course will be useful for my research. Machine learning could be an interesting data analysis method for me. It will certainly require its designers to make interesting ethical choices, and if I get the chance to study such a design team in the future, it will be helpful for me to understand the technology they are using.
So far, the class is interesting. This week, we are learning about the algorithms that statistical programs like R use to find coefficients for univariate regressions. It's a fun counterpart to the linear modeling class I took first term which used that kind of software. It promises to tough, and an excellent opportunity for me to practice what I've been learning about growth mindset and grit!
We completed our first week today. I've passed all my assignments and have only cried once!
More info (& crying) to come on this, I'm sure.