It's summer! And I'm in SoCal, where I can really enjoy it– see photo of a hike a few weeks ago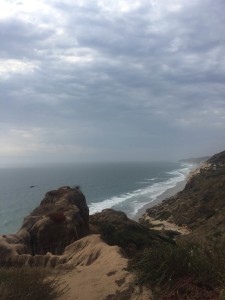 As you probably know, summer in graduate school is not quite the same as summer in other kinds of school, but it is a big change in routine.
For your first two years(ish) you're probably going to classes most days during the semester and earning your keep– by working for your advisor, TAing or working in your department for example. A lot of the time, you will have 9 or 9.5 months of funding for that arrangement, and you need to find a way to support yourself over the summer. If you have 12 months of funding, you'll keep doing what your doing. Either way, you probably need to continue getting money in the summer!
Classes ending is a double-sided coin. On the one hand, you have a whole bunch of free time! You could be working on your own research, catching up on lost time from finals, preparing for your next step, getting a lot of reading done… On the other hand, your days have lost a lot of structure, and that makes it harder to get things done.
But you know what looks a lot like this– unstructured time, lots of possible work, no classes? Dissertation time! So it would behoove you to use summers as practice for that independent work time that will sum up your PhD.
My first summer, I didn't totally succeed at working with unstructured independence, but I did get a decent amount done, and I learned a lot. You can read more about that using the "summer" tag, but the basics of what I learned are this:
I need to carve out specific time for work, so get things done and I don't feel guilty about not working all the time
I need to carve out time for relaxing so I don't go bonkers
I need to find and support healthy activities for relaxing time that I actually find relaxing, unlike the activities I tend to choose for myself (reading reddit, reading facebook, reading reddit…)
This summer, I will be doing all of those things, plus carving out a specific place for work– updates on that to come.
As far as relaxing time goes, my current habit is to commit to doing at least one artsy thing (a craft or art project, hair dyeing included) or one social thing every day. Once I have the rest of my system in place, I'll reevaluate how that's working.
My open question for this summer is do I need to specify which time is for my advisor's projects and which time is for my projects, or can I work to get the most urgent project (my advisor's) done right away, and then work on my stuff if I have time later in the summer? (If you have any thoughts on this question, please leave a comment!
And enjoy your summer